Explore Magazine Volume 5 Issue 1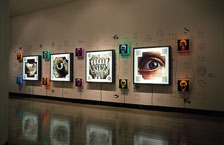 "Cultural Myopia: Perceptions of Identity," 2000
by Richard Heipp
4-48" x 48" back-lighted acrylic on plastic paintings: 10 - 14" x14"
enamel on glass tiles with neon lighting and 150 vinyl wall appliques.
"I am interested in creating artworks that are seductively beautiful and intellectually challenging," says Richard Heipp, the 1999 UF Research Foundation Professor from the College of Fine Arts. "This recent series attempts to address how we see and perceive the world confronting beauty and truth. This installation/painting explores issues of individual identity, surface illusion and how we perceive ourselves and our relationship to nature and culture."
Heipp's work has been featured in more than 25 solo and almost 100 group exhibitions. His work is included in many major public collections, including UF's Harn Museum. He has received numerous grants and awards including a SAF/NEA Fellowship and three State of Florida individual Artist Fellowships. Heipp was recently selected to complete his twelfth Art in Public Places commission.