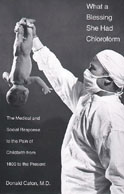 What A Blessing She Had Chloroform
The Medical and Social Response to the Pain
of Childbirth from 1800 to the Present
Donald Caton, M.D.
Yale University Press
"Caton's presentation of the evolution of ideas relating to this subject sparkles with clarity, as well as respect for the several points of view of women and their medical allies." — Lawrence D. Longo, M.D., Loma Linda University School of Medicine
This book describes in fascinating detail the history of the use of anesthesia in childbirth and in so doing offers a unique perspective on the interaction between medical science and social values. Dr. Donald Caton traces the responses of physicians and their patients to the pain of childbirth from the popularization of anesthesia to the natural childbirth movement and beyond. He finds that physicians discovered what could be done to manage pain, and patients decided what would be done.
Dr. Caton discusses how 19th-century physicians began to think and act like scientists, how people learned to reject the belief that pain and suffering are inevitable components of life and how a later generation came to think that pain may have important functions for the individual and society. Finally, he shows the extent to which cultural and social values have influenced "scientific" medical decisions.
•
Donald Caton, M.D., is professor in the Departments of Anesthesiology, and Obstetrics and Gynecology at the University of Florida College of Medicine.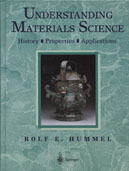 Understanding Materials Science
History, Properties, Applications
Rolf E. Hummel
Springer Publications
This introduction to materials science both for students of engineering and physics and for the interested general public examines not only the physical and engineering properties of virtually all kinds of materials, but also their history, uses, development and some of the implications of resource depletion and materials substitutions. It covers all topics normally taught in a one-semester course on materials, but from an entirely novel perspective: the role that materials have played throughout history in the development of humankind and technologies.
The text thus begins with a discussion of the first human uses of materials during the Stone and Copper-Stone ages. It then turns to the fundamental mechanical properties of materials and mechanisms for changing these. The historical developments of the Bronze Age are used to introduce a treatment of the properties of alloys and compounds. Next, the atomic basis of materials and steel in history and technology, and of the degradation of materials (corrosion and its prevention), is discussed. The historical overview concludes with an explanation of the history and properties of electronic materials (electrical, magnetic, optical and thermal).
Finally, a perspective is given on the history, science and technology of glass, ceramics (stoneware, earthenware, porcelain, high-tech ceramics), natural fibers (wood, cotton, silk, etc.) and on synthetic plastics. The concluding chapters consider economic and environmental concerns (recycling, waste disposal, world resources, prices) and ask what the future might hold.
•
Rolf E. Hummel is professor of materials science at the University of Florida. He received his Ph.D. in 1963 from the University of Stutgartt, Germany, and the Max-Planck-Institut for Materials Research, also in Stutgartt. His previous publications include the books Optical Properties of Metals and Alloys (1971), Electro- and Thermotransport in Metals and Alloys (1977) and Electronic Properties of Materials, second edition (1993).
Ornamental Palm Horticulture
Timothy K. Broschat
Alan W. Meerow
Foreword by P.B. Tomlinson
University Press of Florida
Comprehensive in scope and based on research from worldwide sources, Ornamental Palm Horticulture presents virtually everything ever published about the subject in a concise, readable format, illustrated with 110 color plates and 81 black-and-white photographs. The first complete treatment of palms, the book covers palm biology, palm propagation, environmental influences, mineral nutrition and fertilization, insect and disease pests, container and field production, transplanting, and landscape and interiorscape management.
With more than 200 of the world's 2,700-plus palm species under cultivation, commercial palm production has become a major horticultural industry in Florida. Large numbers of palms are also produced in Hawaii, California, Texas and other warm regions of the world. With varieties from 100 feet high to dwarf-sized, they are also popular indoor plants. While much of the research cited was done in Florida, the authors supplement it with information from other palm-growing regions of the world.
Indispensable for commercial producers and landscapers, this colorful book also will be welcomed by the thousands of palm enthusiasts who maintain collections of palms in landscapes, greenhouses and interior spaces and by the millions of homeowners whose yards are blessed with palms.
•
Timothy K. Broschat is professor of environmental horticulture at the University of Florida's Fort Lauderdale Research and Education Center. He is co-author of Diseases and Disorders of Ornamental Palms and Betrock's Reference Guide to Florida Landscape Plants.
Alan W. Meerow, formerly professor of environmental horticulture and cooperative extension palm specialist at the University of Florida's Fort Lauderdale Research and Education Center, is now a research geneticist for the U.S. Department of Agriculture. He is the author of Betrock's Guide to Landscape Palms and co-author of Betrock's Guide to Florida Landscape Plants.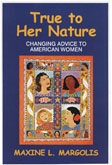 True to Her Nature
Changing Advice to American Women
Maxine L. Margolis
Waveland Press
From colonial times to the present, advice givers from Cotton Mather to Dr. Benjamin Spock and Martha Stewart have offered a litany of opinions on proper child care and good housekeeping. Drawing on sermons, child-rearing manuals and women's magazines, Maxine L. Margolis explores changing ideologies about middle-class women's roles and asserts they can be explained only within a larger material context. Variables such as household vs. industrial production, the demand or lack of demand for women's labor, and the changing costs and benefits of rearing children have been instrumental in influencing views of women's "true nature" and "proper place." This provocative and persuasive analysis suggests there are well-defined material causes for attitudes toward women's employment and housework, changing advice on child rearing — including the "discovery" that fathers are parents too — and the rebirth of feminism.
•
Maxine L. Margolis is professor of anthropology at the University of Florida. Her other books include The Moving Frontier: Social and Economic Change in a Southern Brazilian Community; Materialism and the Study of Culture: Readings in Cultural Materialism; Little Brazil: An Ethnography of Brazilian Immigrants in New York City; and Brazil: Anthropological Perspectives.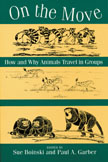 On the Move
How and Why Animals Travel in Groups
Edited by Sue Boinski and Paul A. Garber
University of Chicago Press
Getting from here to there may be simple for one individual. But as any parent, scout leader or CEO knows, herding a whole troop in one direction is a lot more complicated. Who leads the group? Who decides where the group will travel, and using what information? How do they accomplish these tasks?
On the Move addresses these questions, examining the social, cognitive and ecological processes that underlie patterns and strategies of group travel. Chapters discuss how factors such as group size, resource distribution and availability, costs of travel, predation, social cohesion and cognitive skills affect how individuals as well as social groups exploit their environment. Most chapters focus on field studies of a wide range of human and non-human primate groups, from squirrel monkeys to Turkana pastoralists, but chapters covering group travel in hyenas, birds, dolphins and bees provide a broad taxonomic perspective and offer new insights into comparative questions, such as whether primates are unique in their ability to coordinate group-level activities.
•
Sue Boinski is assistant professor of anthropology at the University of Florida.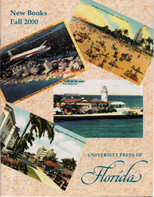 University Press
of Florida

University Press of Florida publishes scholarly books in the arts, humanities, and natural and social sciences. The Press also publishes books of interest and significance for our region and state. The Press publishes in the areas of Latin American and Caribbean studies, literary criticism and theory, philosophy, fine arts, international studies, Southern history and culture, archaeology of the Southeast, and Floridiana. For more information and to view University Press of Florida's catalog, visit its website at http://www.upf.com